INSPIRATIONS & "ONE SHOT"
€488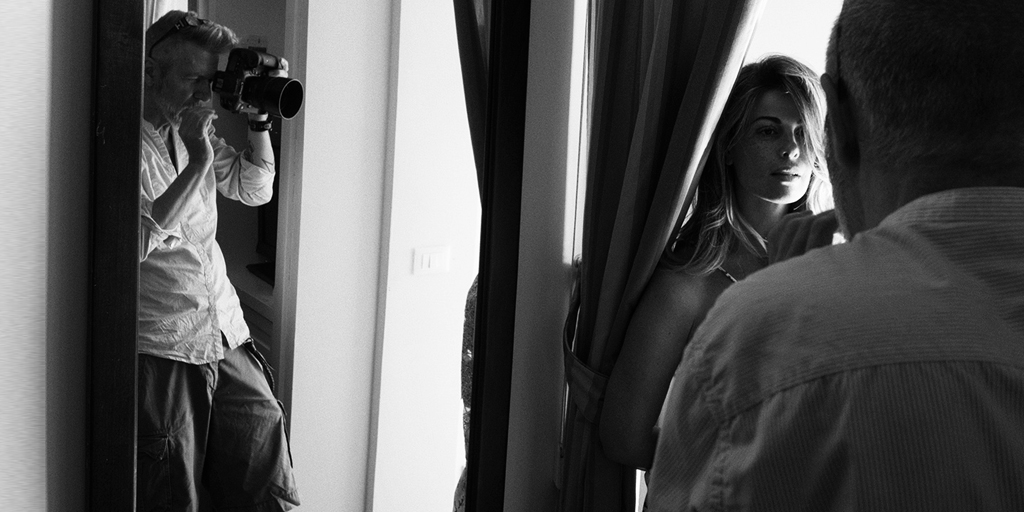 The new training course "Ispirazioni", created by Toni Thorimbert in collaboration with LEA – Lucca Experientia Artis and Photolux Festival, is a full immersion residential workshop of a week to live side by side. A didactic path to find, recognize and accept your expressive figure and your photographic language.
Through the comparison with the images and the photographic attitude of selected classical and contemporary authors, "Ispirazioni" aims to build, or, if necessary, re-build solid foundations for the participants' photographic actions.
A series of photographic "tasks" studied to develop the best attitude and shooting techniques necessary for the realization of their creative objectives.
Halfway through, a day will be spent on portraits through the "One Shot" challenge, a special workshop created by Toni Thorimbert to explore the dynamics of relationships with the subject.
The workshop, lived in a spiritual oasis like the former convent, leaves the frenzy of contemporary times to become a real experiential activity, an opportunity to learn about the photographer and his experience, his technique and his most intimate and secret part.
During the week Toni Thorimbert will dedicate time to vision personal portfolios of participants by evaluating the shots and making suggestions.
Participants will stay in single rooms in the ex-convent CONvictUS, in the historic center of Lucca, where the activities of workshops and moments of conviviality will take place.
Material: participants must be equipped with photo equipment, notebooks with cataloguing and editing software (such as Lightroom, Photoshop or similar) and a memory card.
15.07 Monday
Arrivals and accommodation of all guests. Presentation and information activities.
"Inspirations", report by Toni Thorimbert .
16.07 Tuesday
From the inspirations that have marked Toni's creative path, the first shots are born, aware that external influences can bring out personal talent.
17.07 Wednesday
The images, new and different, inspire. But they also inspire the images that we already know and feel are ours, capable of confirming attitudes and generating complicity. Working day with the presence of models
18.07 Thursday
Day dedicated to the portrait through the challenge "One Shot". It is an opportunity to experience portrait photography as a sensory experience, encouraging participants to get in touch with the person they want to photograph and to get involved in the first person: sharing, relationship, synergy to reach the extreme and decisive single shot.
19.07 Friday
New day of curious perspectives between inspirations and shots. Give wishes to the courage and change your mind while you can. Push yourself to the limit of a set.
20.07 Saturday
Working day on the selected shots to be presented to the public: post production and public presentation organization. In the late afternoon, the results of the workshop will be unveiled through the public presentation of the best shots of each participant.
21.07 Sunday
Conclusion of work with Toni Thorimbert
The program and times may vary slightly depending on the needs and the progress of the workshop
Reporter, portraitist, fashion photographer, able to continuously reinvent his relationship with photography and usually ahead of the times and trends, Toni Thorimbert began to photograph at a very young age, documenting the social and political tensions of the seventies.
In the 1980s, his close collaboration with the most innovative magazines of the period, such as "Max", "Sette" and "Amica", directed by Paolo Pietroni, was fundamental to define the new visual standard of the time.
In 1995 he received the ART DIRECTORS CLUB/AFIP award for his creativity in portraiture photography.
He is a teacher of photographic language workshops and was the critical curator of the exhibition "IMAGES FROM THE INTERNAL WORLD", a collective of eleven European photographers who, on the theme of feelings and human relations, use photography as an active part in the process of self-analysis and self-awareness.
The exhibition was one of the events of the "RENCONTRES INTERNATIONALES DE PHOTOGRAPHIE D'ARLES 1998".
On the same themes, in 2000, published by Baldini&Castoldi, the volume TRANSFERT was released, an anthology dedicated to the artist's most personal work.
Since then his international collaborations for "Details", "Mademoiselle", "Wallpaper" and for the Italian press, from "GQ" to "Rolling Stone", "Sportweek", "Io Donna", "Style", "Max", and the realization of prestigious advertising campaigns.
In 2006 Nepente Editore published "CARTA STAMPATA", a prestigious volume that collects thirty years of fashion and portrait photographs for publishing, while "Seduction of Photography" (2017) and "Proprio da dentro ti voglio e il tuo interno desidero mentre ti guardo" (2019) are his most recent artist's books produced in limited edition.
His work has been the subject of numerous solo and group exhibitions in Italy and abroad.
PERSONAL EXHIBITIONS
1982 Milan, Galleria Il Diaframma.
1985 Turin, Agora Gallery "Great portraits".
1986 Barcelona, Otto Zutz Club "17 Portraits".
1988 Milan, Gran Hotel De Bruin "I vignaioli storici, 50 ritratti".
1995 Florence, Marangoni Foundation "Human Beings".
1999 New York, Duggall Underground: "TIES".
2000 Varese, Museum of Modern and Contemporary Art "TRANSFERT".
2004 Corigliano Calabro, Castello Ducale: "MODAMENTALE, la moda per IO DONNA, 2002/2004
2004 Milan, Nepente Art Gallery: "Candy dates"
2006 Milan, Nepente Art Gallery: "Printed Paper".
2007 Florence, Gerard Loft: "Printed Paper".
2009 Florence, Beside: "Portraits of Style".
2012 Modena, Marco Biagi Foundation, "ALTARI"
2014 Rome, Harpsichord Gallery, "Double game" with Giovanni Gastel. edited by Giovanna Calvenzi
2017 Milan, Leica Galerie, "BESIDE THORIMBERT" by Andrea Pacella.
His photographs have been acquired by the Photographic Collection of the City of Paris, the Museum of Modern and Contemporary Art in Varese, the Collection of Contemporary Photography of the Galleria Civica in Modena, the Fondazione Fotografia della Cassa di Risparmio and the Fondazione Biagi in Modena, the Library of Tibetan Works and Archives in Dharamsala, India.
Web site: www.tonithorimbert.com
The blog behind the images:www.tonithorimbert.blogspot.com 
Instagram: tonithorimbert

Photography Workshop
"Inspirations" & "One Shot" with Toni Thorimbert
from 15 to 21 July 2019
from 15/06/2019
Full Price
€ 2,200.00 + VAT
(€ 2.684,00 VAT included)
Registration € 400 + VAT (€488 VAT included) – deadline 05/07/2019
Workshop fee € 2.196,00 (VAT included) – to be paid before 09/07/2019
…………………………….
before 24/06/2019
Early booking price
€ 1,950.00 + VAT
(€ 2.379,00 VAT included)
Registration € 400 + VAT (€488 VAT included) – deadline 24/06/2019
Workshop fee € 1.891,00 (VAT included) – to be paid before 1/07/2019
The price includes:
– Staying at the CONvictUS in a single room with breakfast
– Lunches and dinners at the CONvictUS with typical Tuscan food tastings
– Inspirations & "One Shot" Workshop with Toni Thorimbert
– Final exhibition of artwork open to the public
– Certificate of participation in the LEA Workshop
– Guided tour of Lucca
– Guided tour of the Lu.C.C.A. Museum
– A tuscany special dinner
– WiFi service
…………………………….
You can pay by credit card or bank transfer
Where and when will the workshop start?
The workshop will take place from July 15 to July 21, 2019 at the CONvictUS, via della Zecca 41, Lucca.
On Monday the course will start at 15.00 and will end on Sunday at 12.00 with lunch included.
Participants will stay, with full board, at the CONvictUS in single rooms.
Why is it better to register now?
We adopt an early booking policy so, if you register now, you have two fundamental advantages:
– buy your ticket at the most advantageous rate possible
– you' re sure that you can participate, given the 20 limited and exclusive tickets
The later you sign up, the higher the price of the participation fee and the risk of not finding a ticket.
What happens if I sign up and then find out I can no longer participate?
If you are unable to participate, please write to info@luccaexperientia.it within 15 days from the start of the workshop.
In this way you can: replace yourself by someone else or use the fee paid by participating in another workshop of Lucca Experientia Artis organized in summer 2019 or by summer 2020.
Your credit is always 100% guaranteed.
Why should I suggest to my friends to participate with me?
The joint participation of a working group allows you to increase the sharing of ideas during the experience and produces a greater harmony of the group that amplifies efficiency and productivity. In addition, the comparison and exchange of opinions between colleagues on the content covered during the workshop allows an easier way to memorize and apply techniques and methods learned.
In addition to the early booking discounts, group discounts are also available, so that more people can take advantage of the final participation fee.