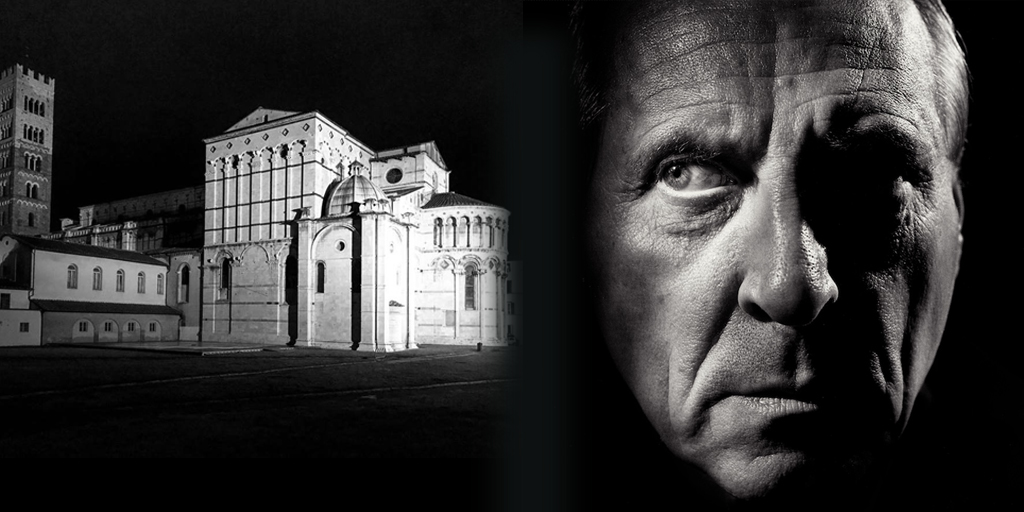 The city of Lucca is the protagonist of "Lucca Mortis", the new film project written by Peter Greenaway.
From the screenplay to the symbolic places of a city considered by the London director a natural set, from the real-life characters to the protagonists of Puccini's operas, the workshop includes the analysis and studies of the various phases of work that will lead to the making of the movie.
Living in close contact with Peter Greenaway from workshop activities to moments of conviviality, in the place he has chosen as the muse and set of his film. It is a unique opportunity to discover the intimate creative vision of the director.
Participants will stay in the CONvictUS in single rooms. All workshop activities, including meals, will take place in the CONvictUS.
24.06 Monday
Arrivals and accommodation of guests in the CONvictUS. Presentation and information activities.
An illustrated and discursive introduction to the film and dialogue with the students: who I am, what I have done and what I am doing as an artist and film-maker.
25.06 Tuesday
A walk through the history of Lucca – from Cesare, Pompeo and Crasso in Piazza dell'Anfiteatro, to Puccini and Madame Butterfly near his native house and Ilaria del Carretto in the Cathedral.
26.06 Wednesday
The development of the idea into a screenplay for a movie about the history of Lucca – the Roman city, Galileo, Guelphs and Ghibellines, the theme of death, Giacomo Puccini.
27.06 Thursday
A fantasy film – which includes real characters together with death and its accomplices as in Shakespeare's works "The Tempest" and "Midsummer Night's Dream" – embracing the contemporary disaster of the Twin Towers. What is the price of the narrative?
A background that takes in consideration Jan van Eyck's euthanasia and Arnolfini.
28.06 Friday
The imaginary and the concept of Tower – as both reason and dominant symbol.
How to make the movie practically. Structure and finances.
Considerations on the two books contained in the film – "55 Men on Horseback" and "The Hubris of the Tower", considering the problems of translating literature into images. The 92 catalogues. " In the beginning it was the image and not the word".
29.06 Saturday
Questions with the students. What is cinema for? Is it already dead? Why do you want to make movies? Couldn't you do something more useful with your intelligence, time and commitment?
30.06 Sunday
Conclusion of work.
The program and times may vary slightly depending on the needs and the progress of the workshop.
Peter Greenaway, regista, pittore e sceneggiatore è considerato come uno dei più significativi cineasti britannici contemporanei, occupando di diritto un posto centrale nel dibattito sul cinema d'autore.
Dopo aver frequentato la Forest School di Londra, a dodici anni decide di diventare un pittore e si iscrive al Walthamstow College of Art. Si interessa non solo alle arti figurative, ma anche al cinema europeo, focalizzandosi principalmente sulle opere di Ingmar Bergman e della Nouvelle Vague francese, soprattutto quelle di Alain Resnais e Jean-Luc Godard.
Influenzato dal Rinascimento e dalla pittura barocca e fiamminga, crea pellicole caratterizzate dal forte impatto visivo, che basano tutta la loro forza espressiva sulla composizione scenica e ogni piccolo dettaglio, l'illuminazione e i contrasti fra costume e nudità, architettura e natura, oggetti di scena e persone, piacere sessuale e dolorosa morte.
La generale staticità delle inquadrature, l'utilizzo dello zoom, di movimenti di camera lenti, soprattutto lungo direzioni ortogonali alla macchina, la presenza delle tecniche del piano sequenza e della carrellata, usati per lunghe sequenze temporali, servono a focalizzare l'attenzione dello spettatore sulla complessità della costruzione scenica, sui dettagli e sul loro significato simbolico.
Gli anni Ottanta diedero la fama al regista grazie alle sue maggiori produzioni cinematografiche "i misteri del giardino di Compton House" (1982), "Lo zoo di Venere" (1985), "Il ventre dell'architetto" (1987), "Giochi nell'acqua" (1988), "Il cuoco, il ladro, sua moglie e l'amante" (1989).
Altri 28 film si susseguono negli anni da "L'ultima tempesta" (1991) a "8 donne e ½" (1999), da "Nightwatching" (2007) fino a "Shchukin, Matisse, Dance and Music" (2016) intervallati da spettacoli teatrali, installazioni digitali e multimediali, performance VJ, attività espositive e la pubblicazione di numerosi libri.
Direction Workshop
"Lucca mortis" with Peter Greenaway
24 to 30 June 2019
All inclusive
€ 2.300,00 + VAT
(€ 2.806.00 + VAT included)
Registration € 488 (VAT included) – deadline 14/06/2019
Workshop fee € 2.318,00 (VAT included) – to be paid before 19/06/2019
Purchasing
The price includes:
– Workshop "Lucca mortis" with Peter Greenaway at the CONvictUS
– Staying at the Convictus in single room with breakfast
– Lunches and dinners at the CONvictUS with typical Tuscan food tastings
– Certificate of participation in the LEA Workshop
– Guided tour of Lucca
– Guided tour of the Giacomo Puccini birth house museum
– A tuscany special dinner in an exclusive location
– WiFi service
…………………………….
You can pay by credit card or bank transfer
Where and when will the workshop start?
The workshop will take place from Monday, June 24 to Sunday, June 30, 2019 at the CONvictUS, via della Zecca 41, Lucca.
On Monday the course will start at 15.00 and will end on Sunday at 12.00 with lunch included.
Participants will be accommodated with full board at the Antica Residenza del Gallo in double or triple room or at CONvictUS.
Why is it better to register now?
We adopt an early booking policy so, if you register now, you have two fundamental advantages:
– buy your ticket at the most advantageous rate possible
– you' re sure that you can participate, given the 20 limited and exclusive tickets
The later you sign up, the higher the price of the participation fee and the risk of not finding a ticket.
What happens if I sign up and then find out I can no longer participate?
If you are unable to participate, please write to info@luccaexperientia.it within 15 days from the start of the workshop.
In this way you can: replace yourself by someone else or use the fee paid by participating in another workshop of Lucca Experientia Artis organized in summer 2019 or by summer 2020.
Your credit is always 100% guaranteed.
Why should I suggest to my friends to participate with me?
The joint participation of a working group allows you to increase the sharing of ideas during the experience and produces a greater harmony of the group that amplifies efficiency and productivity. In addition, the comparison and exchange of opinions between colleagues on the content covered during the workshop allows an easier way to memorize and apply techniques and methods learned.
In addition to the early booking discounts, group discounts are also available, so that more people can take advantage of the final participation fee.